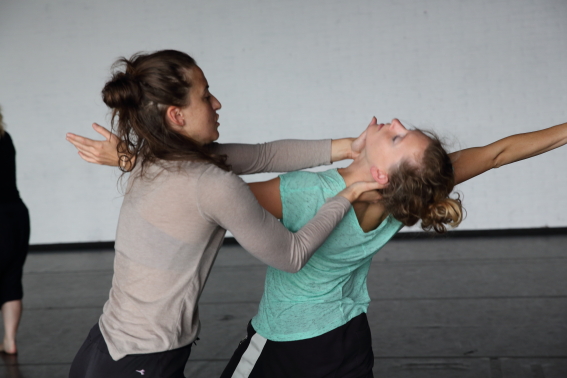 Put freedom and limitations in one space and you find the key to infinite possibilities
Laura Vanhulle and Judith Clijsters (both choreographers/dancers)  met during their dance training in the UK. Ever since they share similar ideas about movement and performance. For this workshop they use contemporary dance, choreography, yoga and body-conditioning methods as an anchor point. Through movement and play, they will guide you towards new possibilities of your physicality, your structure and your performance practice. The workshop covers aspects of dance technique, choreography, improvisation and creative skills. It can result in a short, informal sharing of the work.
Laura Vanhulle and Judith Clijsters deliver movement workshops nationally and Internationally  
The base of the workshop: Play Move Connect Share 
Play-  "Welcome to the game of creativity.
We are all looking for ways to express ourselves through play, experiment and improvisation. Without obligations and where mistakes don't exist. Like a playground. How much experience is needed in dance or in life to express something meaningful?
Move-  "Movement is dance and dance is movement. Very Simple. Just like our constant moving breath.
Through somatic (body) work, improvisation, physical tasks, choreography and movement composition we will zoom into the functioning of our body. The 'I' in relationship to another individual as well as to the 'group'. By receiving and giving support we will discover many possibilities and limitations to meet our strengths and our weaknesses.
Connect- "Wired through touch
By moving together we connect with each other differently. The physical body is our largest tool to communication with, yet we emphasize importance to communicate through words. Energy and body language is a fantastic way of conversing and a way of expressing and channelling energy in a new way in relationship to others.  This is important to study.  How to pronounce, how to invite, how to say no? How to care for yourself? 
Share: "Leaving a trace
Sharing what we've learned, emphasises our learning curve. We work towards a sharing, where everyone has a voice or space to express themselves in this universal language. We are all connected, is the motto and through our body we discover a new way, a new layer and a new zone of sharing something unique. Its an invitation to collaborate through freedom and finding new tools softly inspired by a yoga philosophy and dance history.
Summer edition 2017 special thanks to ccBerchem for studio space and hosting
Next edition 2018, stay connected 
http://judithclijsters.be/wp-content/uploads/2017/11/MG_6946.jpg
378
567
admin
admin
2017-11-17 22:32:43
2019-11-11 17:58:27
Touching Base